Conversations With Innovators - Q&A with Kenneth Lewis of OneGold and APMEX
This week we are talking with Kenneth Lewis, CEO of OneGold and APMEX.
OneGold is a precious metals trading platform, and a partnership between precious metals leaders, APMEX and Sprott. For almost 20 years, APMEX has been one of the nation's leading precious metals e-retailers, with 1.5 million customers placing over $10 billion in transactions. Sprott Inc. is an alternative asset manager and a global leader in precious metal and real asset investments with $7 billion under management.
Ken Lewis is a results-oriented professional with more than 25 years of leadership experience across a broad range of retail and technology organizations, many of which are in the Fortune 500. His strategic and operational changes have resulted in growing both the top and bottom lines of an organization. Mr. Lewis joined APMEX in 2011 as EVP of Operations, followed by two years as Chief Operating Officer. Ken is also the CEO of the fast-growing digital precious metal platform OneGold.com.
1. Blockchain, Gold, and Bitcoin? What was the big idea behind OneGold?
To make it easier for consumers to take a position in precious metals quickly, we digitalized the physical metals available in the top tier vaults. OneGold eliminates all traditional barriers to purchase gold and silver, bringing the precious metals buying experience to anyone looking to protect their wealth immediately. We have made a paradigm shift in how metal is procured, while implementing modern trading technologies that do not exist in our industry. We also provide a simple and intuitive user experience with a high emphasis on security with transparent pricing and no hidden fees.
2. What led to providing "digital sales" of gold and silver online?
What we have done is make institutional-grade metal available to consumers at pricing that only the largest institutions receive. We are using metal that is traditionally traded by large financial institutions while leveraging independent validation of ownership interest along the way. There is no FDIC limit on protection and title of metal passes at time of transaction.
3. How does OneGold work? How is it different from traditional methods of trading precious metals?
The key difference is ease of purchase, ownership, and selling. The benefits of purchasing physical precious metals is that you can hold it, and many APMEX customers prefer to hold their own precious metals. And in the ETF market, the benefit is the ease of purchase. You can purchase directly from your brokerage account and get exposure to metal quickly. However, you don't really know if the gold is there or if it's a true one-to-one dollar exposure. With OneGold, you get the best of both worlds. We leverage the advantages and functionality of digital assets and also solve challenges of both physical and financial-based options. You get direct exposure to precious metals where all your holdings are backed completely by physical metals held at the Royal Canadian Mint. You can buy and sell at any time, which provides instant liquidity to manage your portfolio. All your transactions are verified and validated by an independent third-party provider, which can also be accessed on the platform.
Additionally, we allow consumers to seamlessly move funds between their bank accounts and OneGold to execute trades. OneGold offers a number of different payment methods, and unlike purchasing a stock, you can fund the transaction after you execute your buy online.
Consumers can lock in trades 24/7 with no minimum trade size. Consumers wishing to dollar cost average can set up a recurring transaction through AutoInvest and the system will automatically execute trades in any dollar amount and frequency they choose. Finally, getting back to physical metal roots, consumers can redeem their digital metals online for physical product with a couple of clicks. Everything is intuitive and easy to use, as evidenced by our 4.9 out of 5.0 rating from over 600 clients.
4. Any unexpected developments since OneGold's launch this year?
Consumers quickly adopted linking their bank account and that this represents more than 65% of transactions right now. Also, we are surprised by the amount of transactions we are seeing with AutoInvest, a seamless way of dollar cost averaging, with this representing north of 40% of all transactions. Additionally, we are delighted to have customers transacting from more than 60 different countries.
5. Can OneGold customers choose physical delivery of their precious metals?
Yes, we currently offer APMEX's products at the best tiered pricing within the OneGold application. You can pay for the products with your cash balance or metal holdings. Once we receive the order, APMEX will process and ship the order same day, in most cases, if it is placed before 4:00 p.m.
6. Does OneGold have any new innovations on the horizon?
Yes, we are launching a mobile app. We believe this new mobile app will be the best-in-class precious metal purchasing app. OneGold customers will be able to download the app, check balances, see portfolio changes, and make purchases directly from the app.
On the horizon is a new U.S. Gold and U.S. Silver product. We've had requests to offer precious metal held in the United States. The U.S. products will be insured and professionally secured in vaults in the United States.
Another innovation we are working on is offering debit cards tied to your precious metals holding or cash balance. Expect to see more about this offering in 1st quarter 2020.
7. What is unique about OneGold's values and culture?
We are a customer-first organization. We bend over backward to make sure our customers' questions, concerns, and issues are answered in a quick and efficient manner. We pride ourselves on our positive customer ratings, and strive to win our customers' trust every day.
Additionally, the precious metals industry does not always have the best reputation. You will see that everything is transparent on our site. We do not want anyone to be surprised, and we believe our integrity and ethics will help to win customers one at a time.
8. What's your "one thing" that most drives your professional success?
A constant desire to improve and never settle. It is what drives me, and is something that I try to instill in our culture. There is always something we can take to the next level, and we want to encourage the team to take risks along the way. We will learn from our failures and come out stronger on the other side.
9. What are you reading right now?
I tend to find myself re-reading a book that I first read over 20 years ago. The Goal is a book by Eliyahu Goldratt. It is an easy read, and tells the story of bottlenecks in a manufacturing environment and how people approach challenges differently. The writer uses stories to help drive home various key management principles that I use to this day.
For more information on OneGold, please visit onegold.com.
The Conversations with Innovators blog discusses new innovations, big ideas, disruptive technologies, and the thought leaders, innovators, rebels, entrepreneurs and trailblazers that make all of this possible.
Read our Blockchain Technology Industry Solutions page for information on legal issues unique to blockchain technology companies.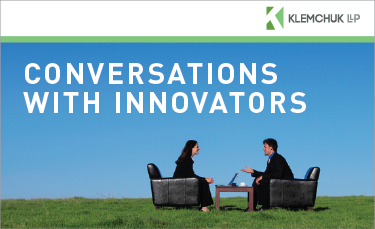 Sign up for and explore our content and thought leadership here.
About the Firm:
Klemchuk LLP is a litigation, intellectual property, transactional, and international business law firm dedicated to protecting innovation. The firm provides tailored legal solutions to industries including software, technology, retail, real estate, consumer goods, ecommerce, telecommunications, restaurant, energy, media, and professional services. The firm focuses on serving mid-market companies seeking long-term, value-added relationships with a law firm. Learn more about experiencing law practiced differently and our local counsel practice.
The firm publishes Intellectual Property Trends (latest developments in IP law), Conversations with Innovators (interviews with thought leaders), Leaders in Law (insights from law leaders), Culture Counts (thoughts on law firm culture and business), and Legal Insights (in-depth analysis of IP, litigation, and transactional law).