Conversations With Innovators - Q&A with Ryan Stump of Charlie's Holdings, Inc.
This week we are talking with Ryan Stump, the Chief Operating Officer of Charlie's Holdings, Inc., formerly known as Charlie's Chalk Dust. Charlie's has been a client of Klemchuk LLP for several years, and it has been exciting to partner with them during their exponential growth and now through their latest development, an exchange agreement with True Drinks that led them to become a publicly traded company. But that hasn't changed their mission or vision for the company. Read more to hear from Ryan on how they started Charlie's, how they got here, where they're headed next, and their "secret sauce" (hint: it's probably not what you think):
1. Charlie's has been in the news quite a bit lately. One of my favorite articles was in Entrepreneur magazine, discussing your brother Brandon's background - coming from a life of addiction with heroin to creating Ohio House, and then you guys starting Charlie's Chalk Dust together. Such a great story. What's something you'd like to explore further regarding that adventure, or a unique perspective you personally have on all of the events, with you being such an instrumental part of building the businesses and their success?
When an addict is going through their deepest, darkest moments, it's hard for someone else to stay involved in their lives from an arm's length reach. I've seen many go through the addiction cycle, and lost close friends and even an employee to addiction in 2016. It's been very prevalent early on in my life, being exposed to addiction with family and friends as early as high school. But I didn't really know how severe it was, or what recovery really was. It was really through physically seeing family members and friends struggle with it that I learned what it was really like. I wanted to be there for them, but then there's a feeling of remorse or guilt from being involved with someone's life, and perhaps enabling their addiction, by just being around them and not being active in intervening with their addiction. It took a while for me to understand how my actions really affected others – either positively or negatively. When I was first learning about addiction, I started to distance myself from my brother and what he was caught up in, and while that approach worked in the long run, it was probably not the best thing I could've done at the time. I learned that I needed to add more support in order to deal with things, and I learned that I had to become empathetic, and that I needed to help break the stigma attached to addiction.
I'm still involved with Ohio House and Buckeye Recovery Network, and we're fighting every day in the community to break the stigma of addiction and educate the families. Buckeye Recovery Network and Ohio House are really passions for myself and for Brandon, and we get a lot out of helping to educate others. Because of our experiences we're able to take an empathetic approach, and seek to help motivate addicts to find a more fulfilling life, and work with their families to give them hope. It took me a while to grasp what addiction really was, and what it really meant but I'm forever grateful for it, and it's given us an amazing platform to launch Charlie's Chalk Dust because what we believe in is improving the quality of life, motivating people to achieve their full potential, making health-conscious decisions (swapping 1 ½ packs of cigarettes a day for vaping), and supporting their families..
2. In one of the articles I read, Brandon discusses how getting sober was about "getting up one day and trying to stay sober until he went to sleep, and then doing it again the next day." Did you find any parallels to that when you were launching Charlie's or Ohio House? Such as, "let's figure out how to keep the doors open today, and then we'll figure out tomorrow…?"
100%. When we first started Charlie's, it was day-to-day decisions on how to spend time between the company and Ohio House, and how to balance it between the two. We had to be extremely intentional with our time to make sure we continue to provide the gold standard for an aftercare program like Ohio House, while launching Charlie's that we truly believed would be something huge. That was driven starting on day 1 with sales, with me, Brandon, and two of our other buddies that still work with us to this day, literally sitting around a table in our kitchen passing the phone to each other to make calls. We would prospect all day long – selling products we did, or did not, have that day. Once we started getting sales, we started getting people to help us make the product by hand.
When the kitchen got too small, we added the garage, when the garage became too small, we added a hotel room, etc. This only went on for a month or so until we got our own warehouse and facility - filling it with our friends working around the clock to manufacture and pack bottles of eliquid.
Then at night, because the days were spent on Ohio House and Buckeye, we'd block out an hour at a time for people to rotate on/off social media, leads, sales duties. We were working 24 hours a day – it never stopped. We call this "C Time." C Time is vital for prospecting and organizing your next day and plan of attack while the rest of the world is sleeping.
I have a marketing background. But because of how rapidly the company was growing, I transitioned into Operations after about the first 9 months. I had to learn how to run a business, manage relationships with vendors, order supplies, manage inventory. I took it on because it needed to get done.
3. Regulations have been tough on a lot of companies in the vaping industry in the last few years. How have you guys managed to continue such a huge growth trajectory during that time?
We have had great people on our team, since day 1. That includes warehouse, sales, finance, operations, and legal counsel. We didn't want to create something that modeled a candy company, or a food and beverage company, like a lot of other vaping companies did. A lot of companies decided they wanted their flavors to taste like candy, or other flavors geared towards teens. Obviously adults enjoy sweet and eclectic flavors just like minors do, so we have been intentional with our packaging and development of products to make sure that they are not geared towards a younger audience. We've built a brand that has exotic and premium flavors and mirrors a sophisticated lifestyle brand that only adults are drawn to. The Charlie's Chalk Dust brand started as artistic black and white bottles which has evolved over time into many more brand extensions that do not appeal to youth. These other brands are inspired by various events that have occurred in our adult lives. It is something we are quite sensitive to, yet extremely proud.
The demand for vapor products didn't go away, despite the regulations. So it's about how you properly offer those products and the supply to support the demand that's out there. Every day we talk to people that ask, "How do I get off of cigarettes?" We've been proactive with the regulators. We've been to Washington D.C. to talk with lawmakers. We want reasonable regulations. There is more good than bad that comes from the vaping industry – it's about how you put reasonable regulations into effect so that people are provided with a safe alternative to smoking cigarettes. We want to convert cigarette smokers to vaping, then on to perhaps nothing. We're extremely happy when we hear of people doing that. That's the story of the lifecycle we're trying to enable.
4. We heard you recently joined forces with True Drinks in an exchange agreement. Congrats! Sounds like an awesome opportunity on both sides. How did the opportunity come about?
A few It came about in the Fall of 2018. There were many opportunities along the way, but none were a great fit and preserved what we had built. What we wanted to do was to keep doing what we loved - our individual roles within the company and the people we worked with each day. We didn't want to give away all we'd created just to put some money in our pockets. We wanted to preserve what we'd built, the people and the culture, and continue to make quality products.
In the Fall of 2018, Brandon was introduced to our current lead investor, Vinny Smith. He loves investing in technology-driven companies, which is how we've always described ourselves. Technology evolves, and so does the vaping industry. Smith and the other members of the investment group saw us as this well-established brand. It was an organic, ongoing conversation – there was never a pitch. There were lots of talks about what was going on in the industry, how we wanted to strategize together, get into new vertical industries. We'd never had that with past interested investors. From there, we built a network of very sharp individuals through Vinny. They saw that in us, and we saw that in them. It was an opportunity to work together, and these are the people we want to associate with, and grow with. Let's attach ourselves to one another, and dominate the vapor industry…or whatever industry we want to collectively pursue in the future. We are thrilled to have done this deal and to be working with the people we're working with.
5. What are the major changes you've felt so far with being a publicly traded company? Did employees react favorably to the change?
It's all things we've been trying to do along the way, but the backend, operations, inventory, has become a necessity that it's really buttoned up, versus before, we were just dealing with things as they came, and dealing with the growth we've had – we're in over 90 countries, so we were just trying to keep up. Being a publicly traded company now has required us to button up some of those back office processes and be more efficient, and that's a really good thing for us. It's what we were wanting all along the way. All to better the organization.
6. What would you say is your favorite thing about Charlie's? What makes it unique?
It's our people. That's our secret sauce. We build our people, and our people will build our business.
Other companies in the vaping industry have savvy business owners without a quality product, or they have a great product but don't know how to run a business. They didn't know how taking care of their employees and offering fair or above market wages could attract talent in a cutting-edge industry. We have about 40 employees, and the first week of every month we do a company meeting. The employee of the month gets $1000 in their pocket. Every person in the company thanks them person-to-person, says something they appreciate about them, and they get a framed picture on the wall that is sketched by the company artist. It is so powerful.
Our people are what make it possible to build a high-quality product, get people off of cigarettes, and build this powerful brand that allows us to work with people that we love, and serve people we love.
For more information on Charlie's Holdings, Inc., please visit www.charlieschalkdust.com.
The Conversations with Innovators blog discusses new innovations, big ideas, disruptive technologies, and the thought leaders, innovators, rebels, entrepreneurs and trailblazers that make all of this possible.
Read our Consumer Products Industry Solutions page for information on legal issues unique to Consumer Product companies.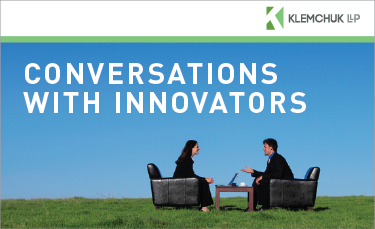 Sign up for and explore our content and thought leadership here.
About the Firm:
Klemchuk LLP is a litigation, intellectual property, transactional, and international business law firm dedicated to protecting innovation. The firm provides tailored legal solutions to industries including software, technology, retail, real estate, consumer goods, ecommerce, telecommunications, restaurant, energy, media, and professional services. The firm focuses on serving mid-market companies seeking long-term, value-added relationships with a law firm. Learn more about experiencing law practiced differently and our local counsel practice.
The firm publishes Intellectual Property Trends (latest developments in IP law), Conversations with Innovators (interviews with thought leaders), Leaders in Law (insights from law leaders), Culture Counts (thoughts on law firm culture and business), and Legal Insights (in-depth analysis of IP, litigation, and transactional law).